Pool Contractors in Oxford, CT
For more than three decades, A-1 Pools & Spas has been the go-to pool builders in Oxford, CT and your source for residential pool maintenance, installation, repair, and supplies for customers in Oxford, New Haven, Waterbury, and New Haven County, CT. We provide each of our clients with the products and services necessary to keep their above-ground or in-ground pools and hot tubs in prime condition, so they can enjoy them to their fullest!
We offer free estimates on the cost of our pool services, tailored around your individual pool and it specific needs.
---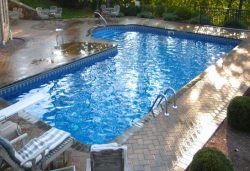 Your Resource for Pool Service and Supplies
Since 1983, A-1 Pools & Spas has been one of the most capable and trusted pool contractors in both the New Haven County and Fairfield County area. We provide a full range of pool and spa services, including installation, maintenance and repair. We also sell a robust selection of everything necessary to keep residential pools safe, clean and in good working order. We're a locally-owned and -operated business serving residential pool owners in the Oxford region—your one-stop shop for all of your residential pool and spa needs! We're proud to offer each of our clients unparalleled quality in products and workmanship.
A-1 Pools & Spas sells an extensive range of products from some of the world's finest pool and spa brands, including a number of specialty models and energy-efficient pool care products. Whether you're in need of a new system pump or are hoping to invest in pool construction in New Haven County, CT for the first time, you can count on us for a stellar experience. Contact us today to receive a free estimate on the costs of our pool installation or maintenance services. We maintain an A-plus rating with the Better Business Bureau (BBB). Let us help you enjoy your pool and each and every time you take a dip in it!
A-1 Pools & Spas maintains an A-plus rating with the BBB, showcasing our dedication to delivering exceptional customer service.
Our employees are bonded, licensed and insured. Have peace of mind when working with us! License Numbers: HIC – 542199, SP1 – 281234, SPB – 0000076
We offer a selection of specialty items from the top pool and spa brands. Looking for something in particular? We'll be glad to help you find it.
We aim to be your comprehensive, one-stop shop for all pool care needs, with unmatched products and services.
---
Check Out the Pentair Products in Our Stock
If you're looking for automation and energy-saving products for your pool, look no further than A-1 Pools & Spas. We have automation and energy-saving products from Pentair. View the videos featured below to check out the products we offer.
Advantages of Our Clearwater Mineral Pure System
Crystal clear water:
When you get a Clearwater Mineral Pure system installed, you'll never want to go back to a chlorinated pool or spa again. You'll be amazed by the clarity and purity of the water that exceeds even the EPA standards for drinking water.Health and environment: Get chlorine-free water in your pool as chlorine is detrimental to your health and environment.
Cost-effective:
You'll be able to eliminate chlorine products and algaecides. Your investment will be recovered as you can prolong the use of pool equipment.
Time-saving:
Save your time from the busy chore of chlorination and spa or pool monitoring.
Reduce corrosion:
Your vinyl liners, hoses, covers, pool cleaners, and other pool and spa equipment will last longer as chlorine-free water reduces corrosion.
Your unit will come with a full 5-year WARRANTY. 5-year WARRANTY
Schedule Pool Service
To receive a free estimate on the cost of your pool care or installation, reach out to our pool contractors today. We'll be glad to consult with you, so you can start enjoying your pool.
Proudly offering the best pools, spas, hot tubs and accessories to the following areas:
Oxford, CT
Southbury, CT
Seymour, CT
Shelton, CT
Orange, CT
Fairfield, CT
Easton, CT
Trumbull, CT
Newtown, CT
Bethany, CT
Woodbridge, CT
Roxbury, CT
Woodbury, CT
Middlebury, CT
Beacon Falls, CT
Stratford, CT
Monroe, CT
Wilton, CT